WHY SHOP Big Green Eggs AT FLEET-PLUMMER?
Largest Selection: Find the perfect EGG for your lifestyle with the widest selection of EGG, tables and carts, and grilling accessories in Greensboro.

Greensboro's Only EGG Dealer: With almost twenty years experience offering EGGs, our grilling experts will help you find the perfect grill to suit your lifestyle.

Best Buying Experience: Our associates do not work on commission and are committed to guiding you to a purchase you'll love.
Big Green Egg
For thousands of years, civilization has cooked their food in domed clay pots. During World War II, U.S. servicemen in Japan saw the design and brought it back to the United States, where it has gained popularity. Called kamado-style cooking (for the Japanese word for "stove"), the Big Green Egg is based on this timeless design; the domed shape cooks food evenly, and the ceramic material (upgraded from clay, which is too fragile) provides the best heat insulation available.
Big Green Egg is the world's premiere manufacturer of the highest-quality ceramic cooking systems, and Fleet-Plummer is the only retailer in Greensboro to find it. We carry all sizes, from the MiniMax to the XXL. Our experts can set you up with the proper accessories, including carts for the ultimate in cooking convenience.
With new technological innovations, the EGG offers easily-adjusted cooking temperatures, from ultra high-heat searing to slow-and-low smoking. Our team members are dedicated to educating you in all of the EGG's features. That is why Fleet-Plummer regularly hosts cooking lessons and demos at our store. It's a chance to not only learn how to cook on your own Egg, but also to sample some delicious foods.
Stop by the store today and let us show you why a Big Green Egg provides the most flavorful grilling experience you will ever have.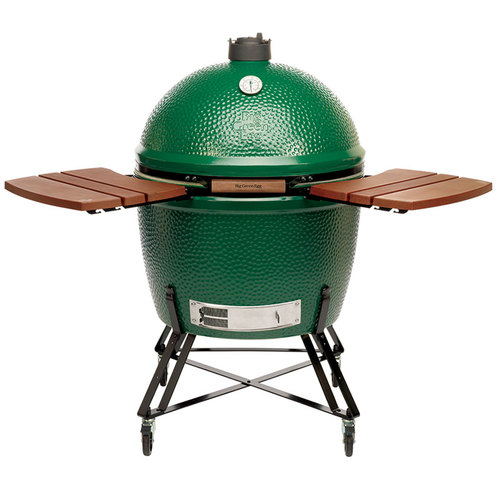 Why Buy An Egg?
The Ultimate Cooking Experience
Big Green Egg is the world's largest producer and international distributor of the highest-quality ceramic cooking systems. When you purchase an EGG, you know your investment is protected by a successful, experienced company with a worldwide reputation for best-in-class products and unmatched customer service. We provide you with confidence, knowing that we have been standing behind our products for over four decades!
As Big Green Egg has evolved over the years, significant changes have been made to keep it miles ahead of anything else on the market – state-of-the-art ceramics, a wide range of easily adjusted cooking temperatures, a stainless steel cooking grid and a permanent porcelain glaze to preserve our signature green color. A team of research and development specialists are continuously looking for new ways to make the EGG even better.
From founder Ed Fisher's original model, the business has grown to include seven sizes of the EGG, and hundreds of accessories and related products designed to always make Big Green Egg a cooking experience that is fun and entertaining!
HOW does THE Big Green EGG WORK?
The Big Green Egg is a blend of ancient tradition, modern technology, and proprietary processes, resulting in a far superior product that is stronger, more durable and provides better heat insulation than any other outdoor cooker on the market.
Simple to Start
The EGG reaches perfect cooking temperature and is ready to use in just minutes. Our 100% lump charcoal is made in the USA from only the best cuts of natural oak and hickory for superb performance and results. Lighting the charcoal is always quick and easy, as the design of the Big Green Egg allows air flow to circulate efficiently. Use our natural charcoal starter or an electric starter … and never buy lighter fluid again!
Precise Temperature Control
Grill, smoke and bake on your EGG at exact temperatures by easily adjusting the patented air flow systems. You have total control over temperature at your fingertips, maintaining accuracy within a few degrees! The Made in USA temperature gauge provides precise readings to 750°F/ 400°C. Many indoor ovens cannot match the accuracy of the EGG's temperature control!
Safer to Use
The EGG is extremely safe to use as the ceramic surface doesn't get as hot as a metal grill, and the heat source is protected within a ceramic fire box inside the base.
Easy Clean Up
The EGG features a professional grade stainless steel cooking grid and an elegant green exterior with a lifetime glaze that maintains its good looks and wipes clean easily without chemical cleaners. Inside, residual heat burns away any grease build-up – just like a self-cleaning oven – and ash build-up is minimal.